What's the best song of 2014?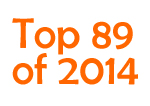 Well, that's up to you!
WTMD wants to know your favorite song of the last year as we get ready to count down the Top 89 of 2014. Our annual countdown of listener and staff favorites is coming up on Tuesday, December 30th and we need your help:
Vote for your favorite song of the year and we'll compile the list – along with staff picks – and count 'em down on Tuesday December 30th. We've also listed WTMD staff picks to help jog your memory. Voting closes December 22nd, vote now!
Voting is now closed. Tune in on the 30th to hear the countdown!
WTMD's Top 89 of 2014 is presented by Tunes – New & Used Music and Movies