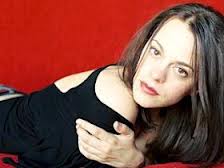 When Mindy Smith talks, she sounds like the Long Island-native that she is, but when she sings, it's if she lived the life of a coal miner's daughter or an Appalachian daughter of a preacher man or a Tennessean who owns her own amusement park.
Speaking of that, Mindy recorded Dolly Parton's favorite cover of "Jolene," which the country legend even appeared on.
Back with a new, self-titled, self-released album, Mindy Smith recalls the haunting Americana of her debut One Moment More, which dealt largely with the death of her mother from breast cancer.
Last month, Smith even released an all-pink edition of her new album during Breast Cancer Awareness month in October.
Listen to her stellar and reveling session below and find out what it's like to have Dolly visit your condo!
Mindy Smith Web A